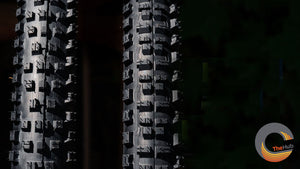 PRODUCT REVIEW: Onza Ibex /Porcupine
  Overall: 4.5
Bike Setup: Transition Spur, RockShox Pike, Factor/NOX 29 carbon wheelset, SRAM G2 RSC brakes
Install: The Onza tires mounted up with relative ease. Just popped them on, added sealant, and aired them up to 32psi and they held pressure overnight. Adjusted pressure to 28psi front/32psi rear and loaded the bike up for the first ride. 
Cornering: The Ibex/Porcupine combo cornered as good as some of the best tires we have ridden. The ride was very predictable and precise, and finding the edge of the tires was effortless. The Ibex up front inspired confidence the steeper the trail got with its familiar shaped and aggressive knobs, and the Porcupine rear tracked perfectly throughout. Speaking of the Porcupine, it really surprised us on how well it could go from tracking and completely hooked up, to easily flicked into a controlled slide on entries to corners. We can confidently say that a couple of PRs were set in sections of fast corners on the first ride with these tires. 
Braking: Again, this combo was super predictable across all the terrain we have here in the southeast. Whether we were heavy on the brakes or feathering them, the tires reacted perfectly. They never cut loose or drifted beyond our control in corners under braking. This contributed to the confidence inspiring ride.
Rolling Resistance: Now, this tire combo wasn't designed to be some type of lightweight XC tire or anything. However, while it wasn't the fastest rolling tire we have ridden, we did find it to roll well given its cornering, braking, and traction. Considering the intended terrain this setup was designed for we have been happy with the way they roll. 
Life: We will update this section in the future once we have had more time on the tires. 
Overall: The predictable cornering and braking performance, and overall confidence inspiring ride have made the Ibex/Porcupine 29x2.4 tire combo my tire go to aggressive trail tire setup. If your rides are mainly pedaling in the mountains and you relish the downhill more than the ups…this is an awesome tire combo.   
Ibex/ Porcupine
lightweight 60TPI single-ply casing with Nylon sidewall protection

moderate weight with good puncture protection

light but strong

Foldable Kevlar beads

Tubeless Ready TLR

Field of application: Trail, All Mountain
Onza Ibex Skinwall: https://cyclelogicretail.com/products/onza-ibex
Onza Porcupine Skiwall: https://cyclelogicretail.com/products/onza-porcupine-29-x-2-40
---