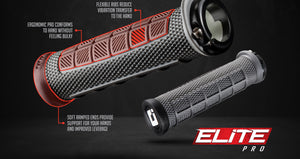 ODI Elite Pro
Used by the world's top riders. Engineered to provide more padding where you need it most and vibration dampening to keep you riding longer. A half-waffel pattern on the backside provides extra control where you need it most. Lock-on plus reinforced ends equal maximum control.
Smanie: WC + EWS Tested
The N.Spire series saddle. An anatomically engineered saddle specifically with the off-road rider in mind. Whether you compete among the world's elite enduro racers on an international platform, if getting lost in your local mountain range is your thing, if you intend to slay your local CX series or grind out countless hours on gravel roads, our N.Spire saddle was designed for you.